Flagships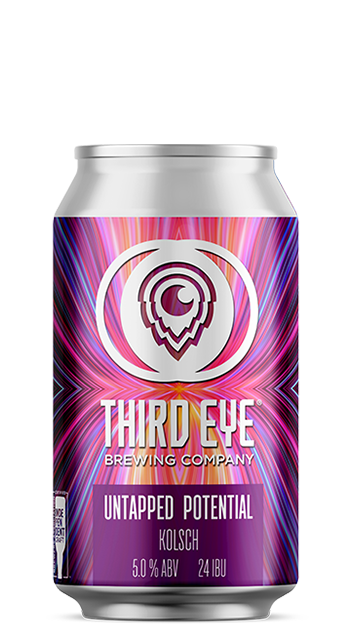 UNTAPPED POTENTIAL
KOLSCH
5.0% ABV / 24 IBU
The Kolsch style originated in Cologne, Germany. German malts, hops, and yeast keep this beer true to its heritage. The ale/lager hybrid is crisp, delicate, and extremely drinkable.
2023 OHIO BREWERS CUP – SILVER
2020-2022 OHIO BREWERS CUP – GOLD
2020 OHIO BREWERS CUP – BEST IN SHOW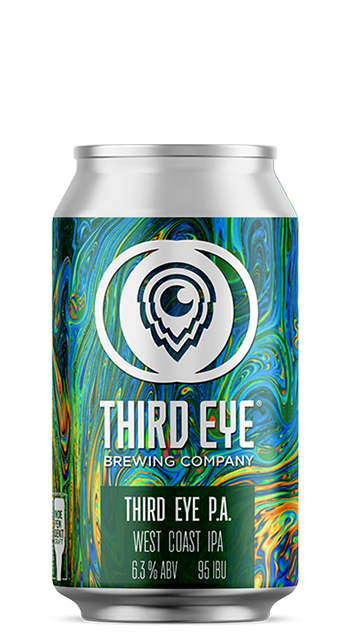 THIRD EYE P.A.
WEST COAST IPA
6.3% ABV / 95 IBU
A beer lover's delight, this beer has plenty of hops to go around. The grain bill was designed to balance the dank, piney, and grapefruit hop flavors. Old and new school hops Simcoe, Centennial, Cascade, and Columbus combine to give a prominent bouquet of aroma and flavor.
GOOD LIVIN'
PILSNER
4.5% ABV / 31 IBU
Czech pilsners are traditionally hoppy with bready malt character and a crisp finish. Flowery, herbal aromas from the Saaz, Sterling, and Tettnanger hops pair perfectly with the extra carbonation for a beer you can't put down.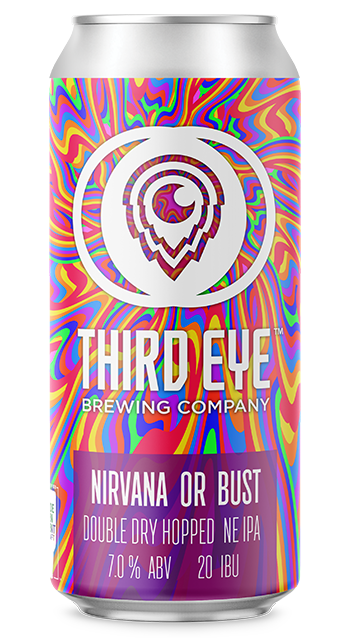 NIRVANA OR BUST
DOUBLE DRY HOPPED NEIPA
7.0% ABV / 20 IBU
Medium in body and smooth in mouthfeel, this easy drinking NEIPA is ripe with juicy notes of citrus, grapefruit, and a little bit of pine. It's double dry-hopped with Nelson Sauvin hops as well as some Citra and Columbus for heightened hop aroma and flavor.
SPECIALTY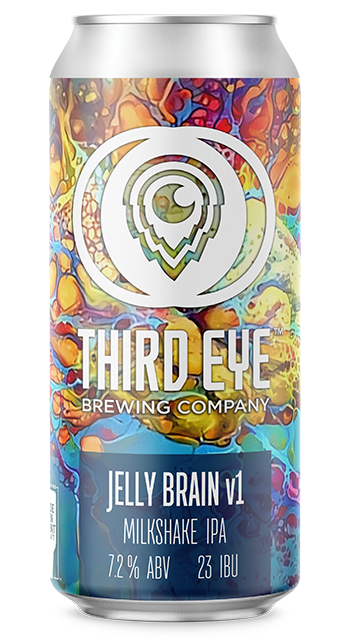 JELLY BRAIN V1
MILKSHAKE IPA
7.2% ABV / 23 IBU
Reminiscent of a pina colada, this milkshake IPA blurs the line between beer and cocktail. It's loaded with 1000lbs of real pineapple and toasted coconut, while vanilla and lactose round out our original creamy, tropical creation.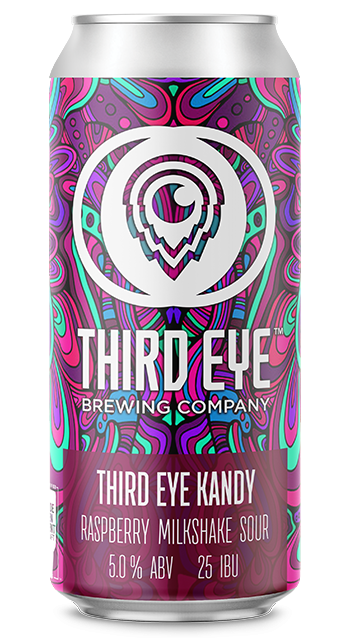 THIRD EYE KANDY
RASPBERRY MILKSHAKE SOUR
5.0% ABV / 25 IBU
All the smooth creaminess of a milkshake with the fruited tartness of a sour. 1000lbs of sweet, tart raspberries meet our sour beer base, all eased with oats, lactose, and vanilla. This raspberry flavor bomb hits all the notes.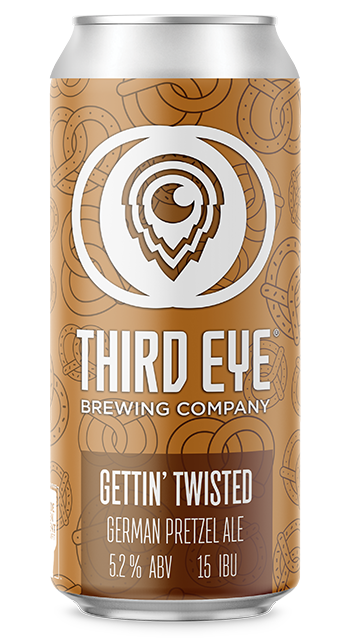 GETTIN' TWISTED
GERMAN PRETZEL ALE
5.2% ABV / 15 IBU
We were inspired by everyone's favorite salty snack, the pretzel. We've teamed up with our friends at Tuba Baking Company to create a one-of-a-kind pretzel beer. Fresh baked salty Tuba pretzels were added to the brewing process. German barley, rye and wheat mingle with a touch of salt to deliver this delicious liquid pretzel experience.
2022 OHIO BREWERS CUP – GOLD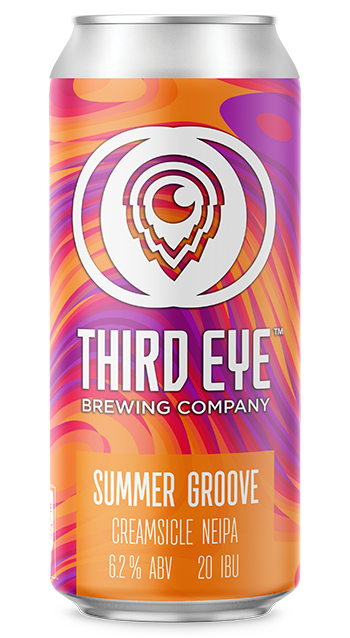 SUMMER GROOVE
CREAMSICLE NEIPA
6.2% ABV / 20 IBU
Featuring the Nectaron hop variety, a pint sends you right back to childhood memories of ice cream truck treats. This IPA couples our New England base with sweet oranges, tons of vanilla and lactose, and a dash of fresh hop flavor and aroma.
Classics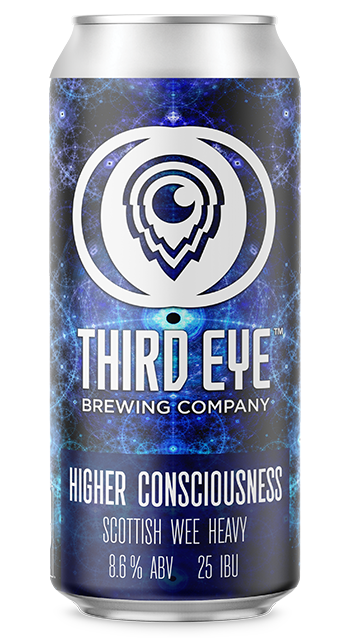 HIGHER CONSCIOUSNESS
SCOTTISH WEE HEAVY
8.6% ABV / 25 IBU
Also called a strong Scotch Ale, the wee heavy is rich and dominated by sweet, candied malt flavors and aromas. The complex caramel flavors come from a variety of specialty malts and an extended boil time. This style is comparable to an English Barleywine and has become one of our favorites to drink after a long day.
2021 U.S. OPEN – GOLD
2021 OHIO BREWERS CUP – GOLD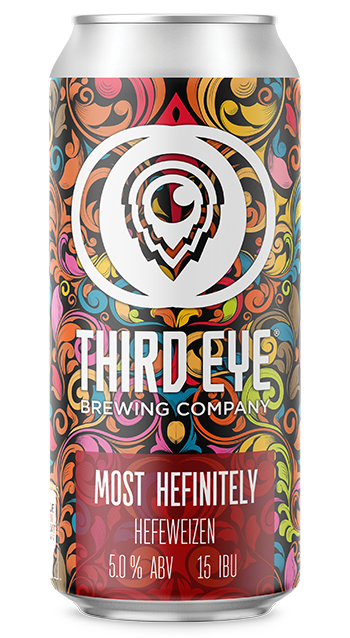 MOST HEFINITELY
HEFEWEIZEN
5.0% ABV / 15 IBU
This Hefeweizen is a traditional German style of beer with a 55% wheat base. It features well-known flavors of banana and clove, with undertones of bubblegum and vanilla. It's soft in mouthfeel, has little to no hop aroma or flavor, and a dry finish. This recipe was developed and brewed by our lead brewer, Tom Argo, as part of his Co-op experience through the Cincinnati State Brewing Science Program in 2021.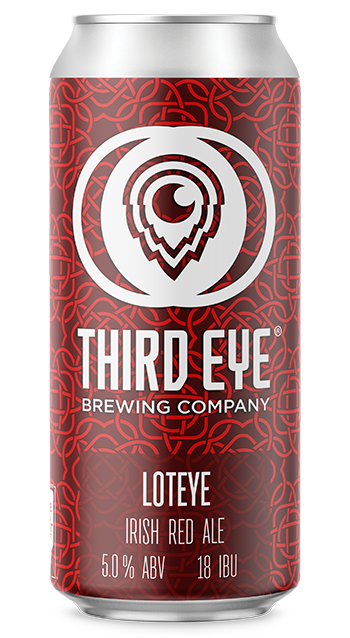 LOTEYE
IRISH RED ALE
5.0% ABV / 18 IBU
Top o' the mornin' to ya! This red ale is malt-forward with sweet flavors and aromas of toasted bread, caramel, and toffee with little bitterness and mild floral hop character. We used some roasted malts to balance the maltiness, lend a dry finish, and give it a beautiful ruby hue.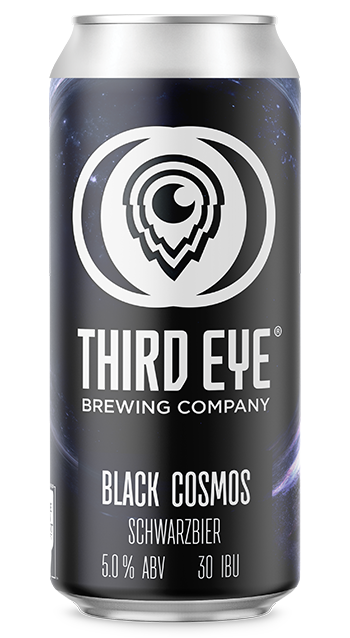 BLACK COSMOS
SCHWARZBIER
5.0% ABV / 30 IBU
Translated as "black beer" in German, the Schwarzbier is a dark German lager and may be the oldest continually brewed style in the world. This beer is quite drinkable as it balances roasted, yet smooth malt flavors with a slight hop bitterness and a light, crisp finish. .
King of Stouts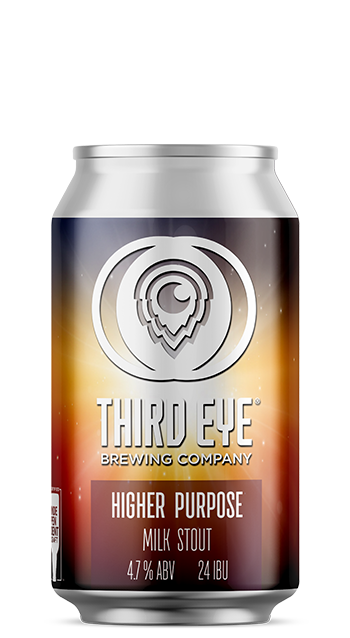 HIGHER PURPOSE
MILK STOUT
4.7% ABV / 24 IBU
The perfect balance of roasted malts, this award- winning stout is dark, sweet and full-bodied. The caramel, chocolate, and coffee flavors derived from over nine types of grain combine with the soft, creamy sweetness from the lactose to tantalize the senses.
This award winning beer is part or our 'DO GOOD' efforts with a portion of the proceeds supporting The Live Like Maya Foundation. For more information, please visit https://livelikemaya.org/
2021 GABF – GOLD
2023 WORLD CUP – BRONZE
2021/2020 US OPEN – GOLD
2022 US OPEN – SILVER
2023 – OHIO BREWERS CUP – GOLD
2022 – OHIO BREWERS CUP – BRONZE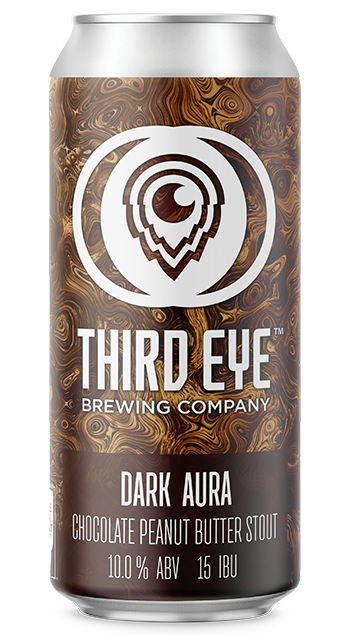 DARK AURA
CHOCOLATE PEANUT BUTTER STOUT
10.0% ABV / 15 IBU
This award-winning Russian Imperial Stout is exploding with Maverick chocolate sweetness, peanut butter, and vanilla. Creamy lactose balances the sweetness and alcohol, creating flavors resonant of chocolate-dipped peanut butter fudge.
2023 US OPEN – GOLD
2022 US OPEN – GOLD
2020 – OHIO BREWERS CUP – SILVER
DOUBLE ASTRAL
CHOCOLATE OATMEAL STOUT
10.8% ABV / 42 IBU
This award-winning luxuriously rich imperial stout has won multiple medals including winning GOLD in the 2023 Great American Beer Festival. The stars of this brew are the rich, bittersweet Maverick Chocolate Company cocoa nibs and husks used liberally during the brewing process. It is one of our favorites and we hope you enjoy!
2023 GABF – GOLD
2023 US OPEN – SILVER
2022 US OPEN – GOLD
2021 – OHIO BREWERS CUP – GOLD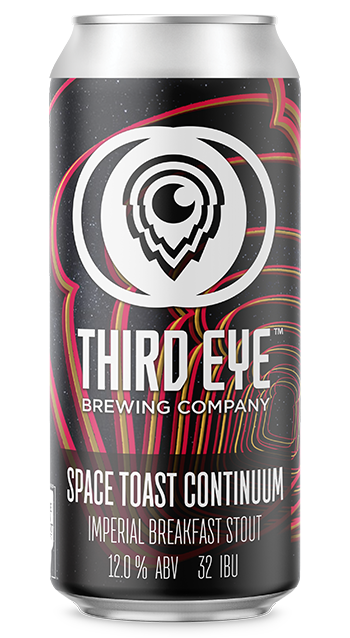 SPACE TOAST CONTINUUM
IMPERIAL BREAKFAST STOUT
12.0% ABV / 32 IBU
This boozy treat is brimming with aromas of sweet malt and roasted coffee. So full bodied it's almost chewy. Tastes like drunk French toast thanks to the cinnamon, maple syrup, and vanilla. Please enjoy this decadent brew responsibly!
2023 US OPEN – SILVER
Big IPAs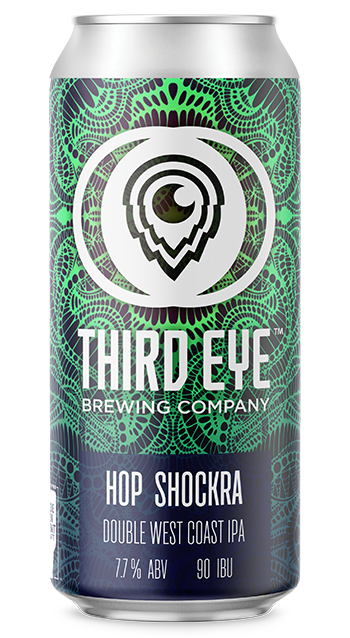 HOP SHOCKRA
DOUBLE WEST COAST IPA
7.7% ABV / 90 IBU
The big brother of our flagship Third Eye P.A., this double is boozy and crisp. Cashmere and Mosaic hops meld to give aromas and flavors of pine and floral sweetness while balancing the considerable alcohol content.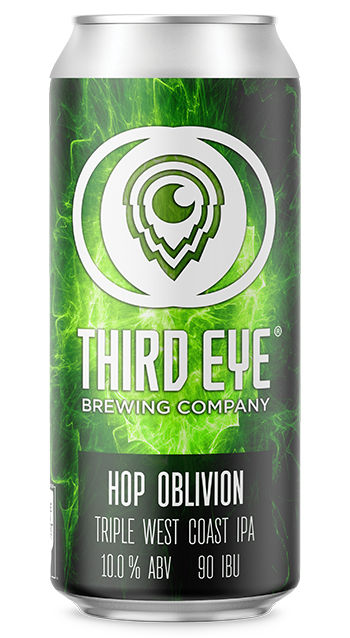 HOP OBLIVION
TRIPLE WEST COAST IPA
10.0% ABV / 90 IBU
How much is too much hops? We don't believe a limit exists! This triple IPA is sweet, boozy, and meant for sipping. It's crisp with aromas and flavors of citrus and pine from rigorous dry hopping with American hops Mosaic and Simcoe. These concentrated hop flavors are balanced by the sweet malty base and high alcohol content, making each sip as intense as the last.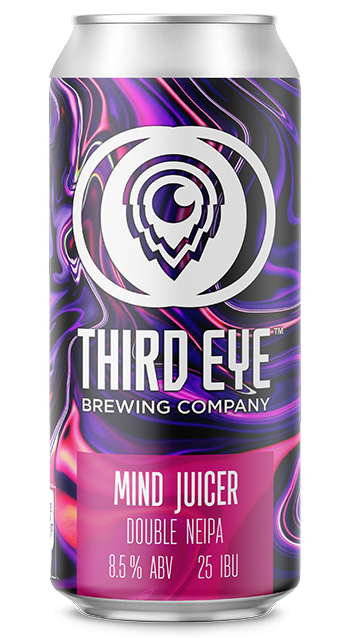 MIND JUICER
DOUBLE NEIPA
8.5% ABV / 25 IBU
Featuring the Mackinac hop variety from Michigan, this double NEIPA is bursting with huge aromas of ripe melon, citrus, and papaya as well as big, fresh, juicy flavors. Substantial sweetness and alcohol content paired with a velvety mouthfeel make for smooth, easy sips.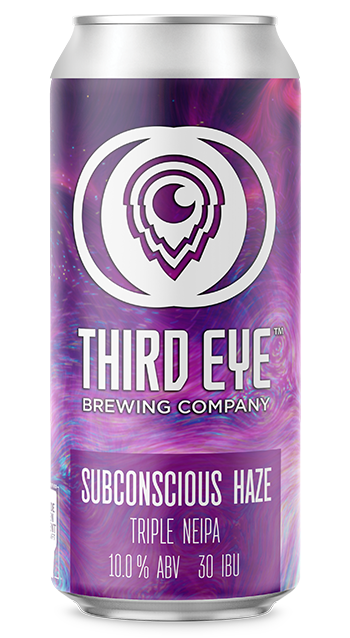 SUBCONSCIOUS HAZE
TRIPLE NEIPA
10.0% ABV / 30 IBU
Tipping the scales at 10% our first triple IPA overflows with aromas of tropical stone fruit, ripe peaches, and Juicy Fruit gum. It's boozy, but still smooth and drinkable thanks to the flaked oats, wheat, and lactose that balance all those fruity hop flavors. This juicy NEIPA engulfs your senses leaves your mouth watering for another sip.
Seasonal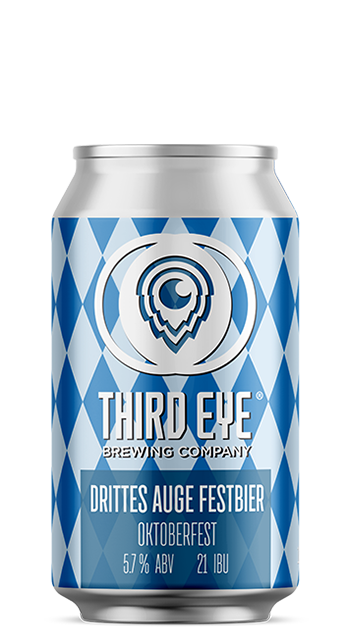 DRITTES AUGE FESTBIER
OKTOBERFEST
5.7% ABV / 21 IBU
Ein Prosit! This Festbier mimics what is served in Germany for the annual Oktoberfest celebration. Drittes Auge is a smooth, clean, pale German lager that showcases elegant bready malt character without being too heavy or filling. It is well-balanced, medium bodied, and finishes with a light sweetness that contributes to its excellent drinkability.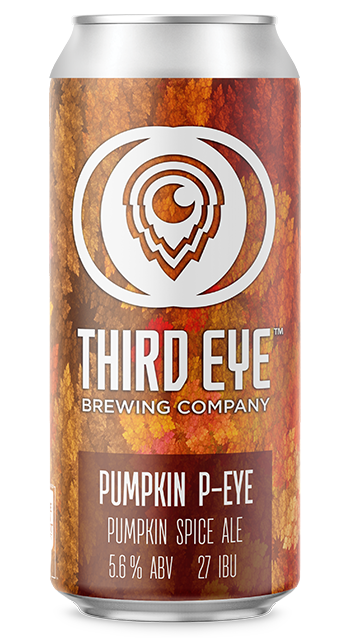 PUMPKIN P-EYE
PUMPKIN SPICE ALE
5.6% ABV / 27 IBU
This awarding-winning dessert inspired beer features Colonel De's Pumpkin Pie Spice Blend, sweet vanilla, and real graham cracker. It is best enjoyed while watching a scary movie in your favorite sweater.
2020 – OHIO BREWERS CUP – BRONZE
2022 – OHIO BREWERS CUP – BRONZE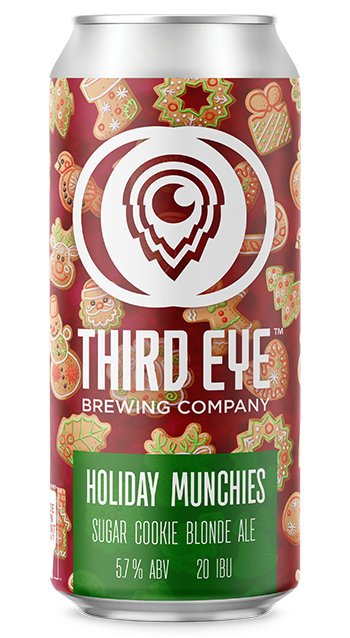 HOLIDAY MUNCHIES
SUGAR COOKIE BLONDE ALE
5.7% ABV / 20 IBU
It's beginning to taste a lot like Christmas! This blonde ale has a hefty, sweet aroma and medium body that transforms your glass into Santa's favorite midnight snack.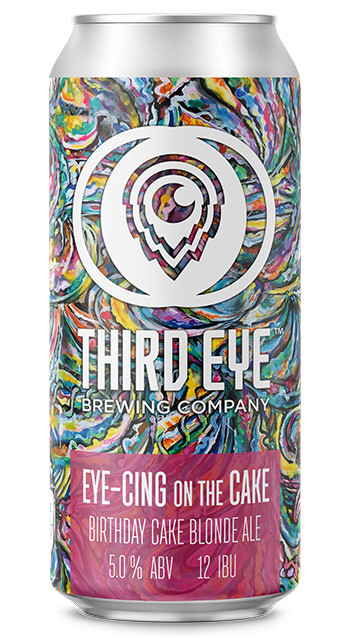 EYE-CING ON THE CAKE
BIRTHDAY CAKE BLONDE ALE
5.0% ABV / 12 IBU
We offer this little slice of heaven to celebrate our anniversary each year! We used a real cake in our mash tun, so this blonde ale has all the flavors and aromas of sweet, delicious birthday cake. The artwork for the can was created by @davidjonathancreative, the amazingly talented artist who created the murals proudly displayed in our tap rooms.